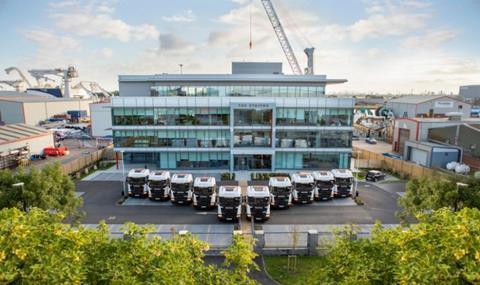 AV Dawson, which owns and operates the Port of Middlesbrough, has expanded its transport fleet by 25% to support its diversification and expansion strategy.
The family firm, which employs around 200 staff, said the ten new Scania R500 XT trucks - five of which are ADR compliant - are a multi-million-pound investment aimed at strengthening the core fleet and driving expansion into new sectors.
AV Dawson is currently investing £10m into its Middlesbrough port facility. The three-year plan includes the construction of a renewable energy plant, a new head office and developments to the port's quayside to accommodate larger vessels.
The port, which is located on the River Tees in North East England, provides a multi-modal freight logistics service across various sectors including energy and renewables, construction, agriculture and automotive.
The 40-hectare facility boasts deep-water berths, market-specific rail terminals including a container park and climate-controlled metals hub, all supported by its road transport fleet.
The FORS Bronze business has fitted the new trucks with road management software which includes reverse parking sensors and 360-degree CCTV.
The trucks also have the Optidrive CanBus system installed, which AV Dawson currently uses to monitor safe driving standards, fuel efficiency & driver performance to promote efficient and safe driving.
Transport commercial manager, Alex Hugill said: "It's an exciting time for our transport department, the investment will allow us to expand our customer base and explore new sectors.
"It also showcases the commitment the business has to the transport department and the value this division brings to the wider company.
"Additionally, the investment has led to a restructure within the department which has made way for new roles to further strengthen the transport team.
"This restructure will allow us to focus on offering an exceptional customer experience and provide a quality, value for money service."
Transport operations manager, Paul Scott said: "Although there have been challenges in recent times regarding recruitment of HGV drivers due to a national shortage, this investment, along with other driver incentives, has allowed us to attract and retain our HGV drivers.
"We look forward to seeing what the new changes bring to the department and wider business."