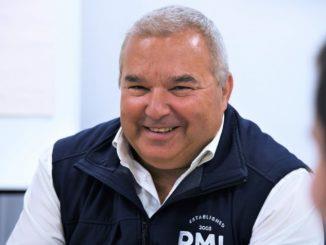 Perishable Movements Limited (PML) said its new customs clearance service, designed to help existing and new customers with the welter of red tape created by Brexit border controls, had proved a great success.
The company operates a remote HMRC and DEFRA-approved Border Control Post at its newly opened £6m facility in Lympne, Kent which enables a faster transit of consignments out of the Port of Dover.
Speaking to Motor Transport, MD Mike Parr (pictured) said the service has been taken up by many of the firm's existing companies and is currently attracting up to 20 enquiries a day.
He added that demand has been triggered by new Brexit customs regulations that came into force in January last year, with many customers preferring to use PML's service than deal with the paperwork themselves.
The recent introduction of additional border checks on 1 January this year at UK borders has also helped boost demand, Parr said.
He is also predicting that the introduction of further Brexit regulations in July this year, requiring border checks on meat, dairy and fish entering the UK from the EU, will see an "explosion" of enquiries for the company's customs clearance service.
"We are very busy at the moment," he said. "Brexit has created more bureaucracy than I have seen in 40 years of being in the business. A lot of companies were just not prepared. I am receiving 10 to 20 enquiries a day from companies who just do not have the paperwork. They call asking us for a customs entry."
Read more
He added that some trucks are being held up for up to two to three days, because their clients have not provided the correct paperwork. "Meanwhile the haulier is stuck at the port and paying the cost as they have to sit there until they get the green light – and I doubt they get all of that cost back from the customer."
Parr said the customs clearance service has come at a cost: "We have spent an absolute fortune on Brexit," he said. "We used to have just 45 to 50 staff but now we have had to take on 50 to 60 additional office staff, just to keep up with the paperwork. However it is paying off and come July there will be even more additional work to do."
PML has also spent a substantial amount on expanding the firm's fleet, after parting company with a haulage subcontractor that was charging a £150 driver retention fee per container. "Our customers said it was too expensive, so we took the plunge," Parr said.
The move has seen PML more than quadruple its fleet, taking delivery of four DAF and 10 Iveco trucks last month with a further 20 new vehicles scheduled for delivery in 2022, representing a total investment of £2.5m.
All of the trucks are destined for PML's new facility at Lympne, Kent which formally opened last week. The company has invested £6m buying and refurbishing the 220,000sq ft Kent transport and logistics hub.
The site includes a 44,000sq ft warehouse and has capacity to process 80 to 100 truck movements per day, which will focus on refrigerated goods only.
PML also plans to increase truck movements in around 18 months' time, when the second phase of the development will see ambient cargo incorporated.