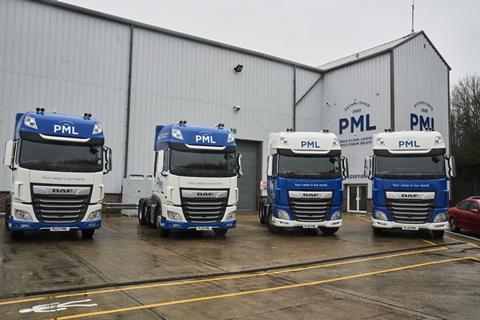 Perishable goods transport specialist PML has opened its new satellite operation at Lympne Distribution Park in Kent.
PML has invested £6m in the purchase and refurbishment of its 220,000sq ft Kent transport and logistics hub, which includes a 44,000sq ft warehouse.
The company chose the site because of its proximity to the motorway network, the Channel Tunnel, and the Channel Ports, and to avoid Low Emission Zone charges in the Greater London area.
The facility has also achieved remote HRMC and DEFRA-approved Border Control Post status to enable a faster transit of consignments out of the Port of Dover.
The site will operate around the clock, seven days a week, handling daily consignments of food for packing, loading and unloading.
The facility has the capacity to process 80-100 truck movements per day in the first phase of operation, which will focus on refrigerated goods only. The company plans to increase truck movements in around 18 months' time, when the second phase of the development will see ambient cargo also be incorporated.
Read more
The new site has generated 64 jobs, including the recruitment of 26 HGV drivers who will operate out of the Kent site, with a further eight driver vacancies coming on stream from April.
The Lympne facility has also created 30 office and warehouse jobs, with 20 staff already in situ or undergoing induction training.
PML is also offering what it describes as "best-in-class facilities" for drivers including 24/7 on-site security, secure parking, clean toilets and showers, access to on-site catering serving hot meals and snacks, as well as lorry wash services and fuel pumps.
PML MD Mike Parr said: "This is a massive step for PML and once again demonstrates our commitment to spearheading new initiatives which challenge the status quo.
"In addition to proximity to the ports and Heathrow, we anticipate that haulage drivers will also appreciate the efficient and seamless service we will be able to deliver, enabling them to leave the trailer on site while they take a rest break, as opposed to sitting in a queue worrying about the lengthy delays which could seriously impact on the condition of their perishable cargo.
"This will be a totally unique facility – there is nothing else that compares with it in the area - and we are excited to be the force behind such a major industry development.
"We hope that the local community will also welcome the opening of our Kent operation, which as well as representing the creation of a substantial number of new jobs, will also reduce delays on the roads within the area, caused by queuing freight traffic."