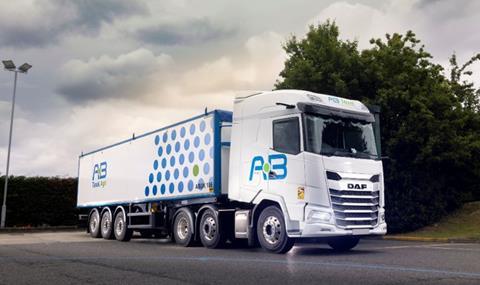 PepsiCo is increasing its use of hydrotreated vegetable oil (HVO) across its supply chain in a move which the company says will save 2,650 tonnes in greenhouse gas emissions annually.
The strategy sees the transport of 240,000 tonnes of potatoes each year from PepsiCo's farmers to its Leicester site - where Walkers crisps are produced - entirely powered by used cooking oil, in partnership with AB Texel UK.
In addition PepsiCo is also expanding its HVO strategy to the company's transport operations in Scotland later this year.
These plans follow PepsiCo's introduction of HVO in 2022, for more than one and a half million kilometres of truck journeys moving product between the Quaker Oats mill in Cupar and its Leicester distribution centre.
PepsiCo said that research has found that every kilometre powered by HVO generates 80% less GHG emissions when compared with conventional diesel.
This future expansion is expected to reduce GHG emissions by another 5,000 tonnes annually. By the end of 2023, PepsiCo expects to be using HVO to power around 9 million kilometres of journeys across the UK.
The initiative forms part of PepsiCo Positive, the company's transformation programme which includes a goal of reaching net zero emissions by 2040.
Simon Devaney, sustainability director at PepsiCo UK & Ireland said: "We're always looking for innovative ways to tackle our carbon footprint and the move to HVO for all our potato deliveries to Leicester, the home of Walkers, is a significant step. HVO fuel plays an important role in helping us to accelerate the decarbonisation of our transport activities."
Read more
Lewis Chisholm, director at AB Texel UK, added: "We acknowledge that we as AB Texel Group, must act now to make a difference for the future and want to contribute to the sustainable transition of the transport sector.
"We strive for long term partnerships with forward thinking businesses like PepsiCo to jointly realise our sustainability ambitions and add value.
"Our ambition is to limit our effect on global warming by reducing our own CO2 emissions to 0% by 2050. The use of renewable fuels, in which we are taking an important step together with PepsiCo, contributes to the realisation of this ambitious goal."
This news builds on several lower-emissions logistics initiatives recently announced by PepsiCo including the two electric trucks, powered by freight mobility technology company Einride, which were deployed this week to transport product between PepsiCo's factories in Leicester and Coventry. The company has also introduced new electric yard vehicles which will transport 40,000 pallets around the Leicester site.
The company said that switching these journeys to electric will help PepsiCo cut the distance travelled using fossil-powered trucks by over 400,000 kilometres annually and reduce the equivalent of more than 1,600 tonnes of greenhouse gas emissions over the next three years.
Just this month, PepsiCo also announced a £60m investment in its Leicester production site to create a new snacks manufacturing line and upgrade existing facilities.
The investment will deliver several further sustainable innovations, including switching gas fired ovens to electric ones supplied by 100% renewable energy, to help cut 1,000 tonnes of greenhouse gas emissions annually.
For more stories tracking the industry journey to decarbonisation see our new Freight Carbon Zero website.