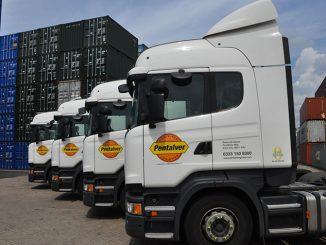 Newly published results for Pentalver Transport showed profits soared in 2021, despite a highly competitive environment and amid economic uncertainty.
For the year ending 31 December 2021, the container haulier posted a pre-tax profit of £10.3m, more than doubling the previous year's figure of £4.3m.
Turnover also rose significantly to £83.7m in the period, from £65.7m in 2020.
In a review of the business, the company, which has depots in Southampton, Felixstowe and London Gateway, said despite the Covid-19 pandemic and its impact on transport and logistics, business performance had improved: "Steps taken by the business during 2020, at the outset of the pandemic, ensured we were well placed to protect our people, customers and suppliers across all our working environments with key liquidity measures retained to conserve cash and allow continued investment in innovation and growth," Pentalver Transport said.
Read more
"The portfolio of services offered across the group provided a level of resilience to results through the pandemic and subsequent global supply chain congestion."
It said that the increase in revenues was reflective of this resilience, in addition to the lifting of Covid restrictions, which drove strong haulage and storage activity.
"Further progress in delivering the business strategy, along with a proven resilience of performing in difficult economic circumstances, result in a confidence that the business will continue to maximise market opportunities to drive further growth," the company added.