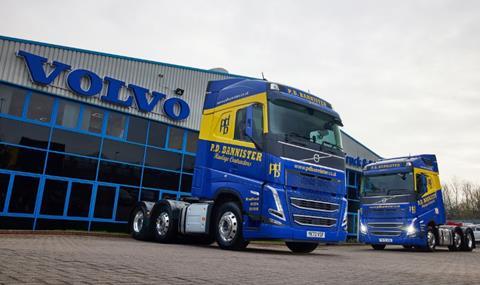 PD Bannister has opted to start replacing the trucks in its fleet with Volvos as it seeks out greater fuel efficiencies.
The Bradford-based haulier has taken delivery of seven FH 460 Globetrotter 6x2s with I-Save, the first of 12 due to arrive at the business over the coming year.
The new vehicles will operate seven days a week, primarily hauling foodstuff and beverages as part of the company's recently expanded contract with Princes Soft Drinks.
Chris Smith, fleet compliance manager at PD Bannister, said: "We run a variety of manufacturers and were a bit disappointed by the performance of some of our non-Volvo tractors in recent years, so when the time came to refresh those vehicles, Volvo was the first name on our list.
"Our vehicles cover a lot of miles, so – as our new trucks' specification reflects – minimising fuel consumption is a must.
"We're already seeing strong returns from our new arrivals, and we'll certainly look to welcome more Volvos in the future."
The firm has already placed orders for three identically specified FH with I-Save trucks due to arrive in 2023, alongside two Volvo FH 540s.