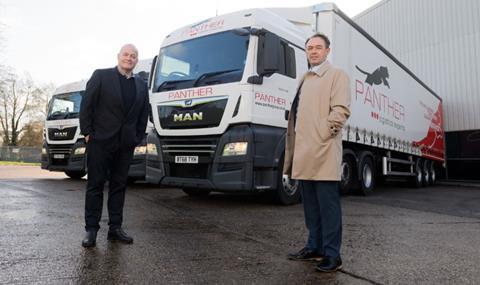 Panther Logistics has ordered 44 new SDC curtainsider trailers from Hireco as growth at the premium, two-man delivery firm continues to escalate.
The trailers, which come as a contract hire package deal, will be delivered in Panther's new corporate livery.
Guy Burgess (pictured left), logistics director at Panther Warehousing, said the two-man delivery business had enjoyed steady growth driven by growing online demand which has seen the firm make up to 6,000 deliveries a day with orders taken up to 10.00pm.
He said: "It was extraordinary. The business increases we have seen over the past year have come in cycles starting with fridges and freezers followed by lifestyle and seasonal goods such as gym equipment, bikes and garden furniture as well as our staple business such as the delivery of beds and mattresses."
Read more
Within its offering, the company includes recovery of recyclable goods and disposal, seven-day-a-week delivery and collections, warehousing and storage, and guaranteed pre-10am and post-6pm delivery.
Customers include Amazon, Samsung, Dunelm, Silentnight Group, LG, Habitat, Electrolux and Wayfair.
Hireco manages 100 assets for Panther. Under the deal Hireco, which had been working with Panther as one of a number of suppliers, is now the primary supplier of trailers to Panther.
Terry Taiani (pictured right), the Hireco UK operations and development manager said: "We are delighted that through listening and through conversations, we were able to find new solutions and benefits for Panther."