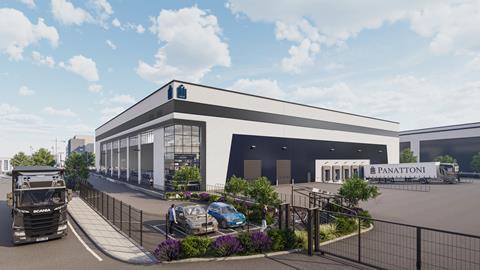 Panattoni has submitted plans for a speculative 80,000 sq ft last-mile logistics development near Heathrow after purchasing the site earlier this year.
Panattoni Poyle 80 is located on Horton Road close to the M25 and Heathrow Airport's passenger and cargo terminals.
Plans for the site, known as Panattoni Poyle 80, include a net zero carbon development rating, a BREEAM sustainability rating of 'Excellent' and an EPC rating of 'A' with enhanced sustainability credentials, including photovoltaic roof panels along with the roof cable of full PV array and 20% electric vehicle parking spaces.
The facility will also feature single-storey, grade-A office accommodation, 12.5m clear internal height, 5 dock doors, 2 level access doors, 37 car parking spaces and 24/7 unrestricted use.
The facility is expected to be completed in the third quarter of 2024, subject to planning consent.
Read more
Alex Mitchell, Panattoni development manager, South East and London, said: "The team has worked hard to quickly bring forward plans to submit for the development following the purchase of the site in the first quarter.
"Poyle 80 is a rare ultra-urban, last-mile opportunity, providing immediate access to the UK's largest cargo terminal at Heathrow Airport. It is one of very few opportunities capable of this national coverage and we hope to be able to bring this forward in the coming months".
Stephen Vickers, Panattoni commercial delivery director added: "We are pleased to be moving forward on the delivery of the new site, with planning now submitted to deliver a sustainable facility for occupiers.
"Panattoni has reviewed the supply chain to make sure we are reducing our carbon output and delivering a net zero carbon development in construction. The facility will deliver a highly sustainable scheme to an excellent specification in a desired prime location".