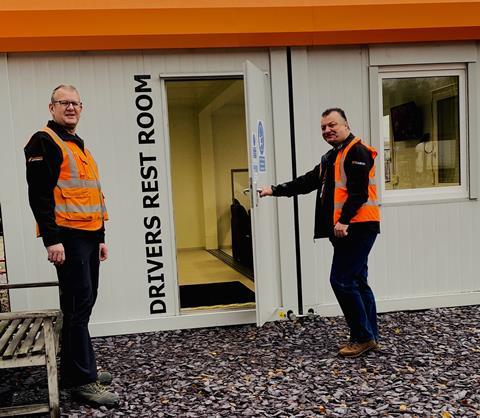 EV Cargo's Palletforce has announced a further £30,000 investment in driver welfare at its SuperHub.
The funds will go towards upgrading visiting driver facilities and reinforcing safety procedures to protect staff, members and its network.
The works are in addition to a range of measures introduced last year to make the site fully Covid-compliant, including social distancing for visiting drivers and staff, increased hygiene points, one-way systems and signage.
Palletforce has also invested in new driver welfare units, with individual changing, toilet and shower facilities complying with current social distancing measures. The outdoor area has also been improved, with landscaping and additional external seating.
Additional investment in facilities management will also see increased cleaning staff, more frequent cleaning schedules and deep cleaning of key areas during weekends.
The company has also announced additional measures to protect all SuperHub staff and reinforced messages around hands, face, space and the requirement for fresh air.
Palletforce operations director Mark Tapper said: "The integrity of the SuperHub has been crucial to the full operation of the Palletforce network during the pandemic, which is why we have invested heavily in measures to safeguard the welfare of all visiting drivers from member companies.
"Our members, and their drivers, are integral to the success of the Palletforce network and we must take every step possible to protect drivers and ensure they have access to safe, modern facilities while at the SuperHub.
"By further enhancing facilities we aim to make their stay with us more comfortable, while ensuring there is no let-up in our vigilance against the spread of Covid.
"We've just entered another lockdown and, as difficult and frustrating as that is, now is not the time to become complacent or give in to Covid fatigue, we must redouble our efforts to control the virus and ensure we get through what is hopefully the last tough period."