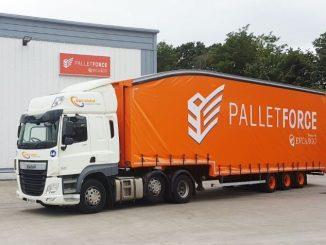 Revenues at Palletforce increased by £10m last year thanks to growth in UK pallet volumes, online commerce and working with its stablemates in the EV Cargo group.
Accounts for the year ending 31 December 2021 showed that the UK and European distribution network reported a turnover of £147.1m, up 7.7% from 2020's £136.6m.
However, profit before tax reduced by 16% to £9m.
Palletforce COO Mark Tapper said revenues were also boosted by growth in its corporate accounts and also additional network input from membership growth.
Read more
"With the challenges posed by the second wave of Covid-19 and Europe changes, the Palletforce business was exposed to a volume surge during quarter two of 2021," he said.
"Decisive management to mitigate the impact on the business, along with the introduction of a range of health and safety measures, strict controls and testing disciplines, kept employees safe in their role as key workers and the business fully operational during Covid restrictions."
Tapper added that it had managed to see off the pandemic's challenges and that its "robust" business model supported the UK economy's recovery.
"Caution remains on any future disruption, be it inflation, fuel and energy pricing and shortages in the supply chain," he said.