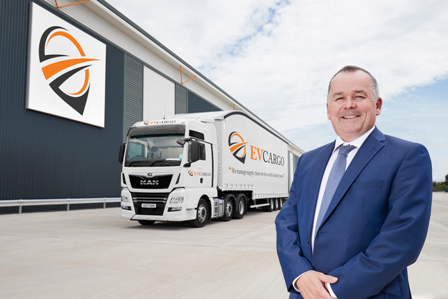 Palletforce boss Michael Conroy, pictured, has taken on the newly created role of chief executive of EV Cargo UK, as part of a major management restructuring.
His promotion is part of a wider strategy by parent company, Hong Kong-based EV Cargo, to boost global revenue from $1.4bn (£1bn) to more than $3bn by 2025, through organic growth and mergers and acquisitions, the group said this week.
The UK management shake-up also sees Ross Eggleton, formerly UK executive vice president of business development, take on the role of UK chief operating officer, whilst EV Cargo technology chief executive Craig Sears-Black becomes executive vice president of growth and innovation.
The company has also announced that Clyde Buntrock, CEO of global forwarding, will have an expanded role which will see the group's technology divisions reporting to him on a global basis.
Andy Humpherson, CEO of EV Cargo Solutions, will also see his role expand to include owned fleet transport.
Heath Zarin, founder and CEO of EV Cargo, said: "EV Cargo is on target to surpass $1.5bn of annual revenue and continues to provide excellent service to our customers during an incredibly challenging time for global supply chains.
"Thanks to years of hard work by some of the brightest people I have ever worked with, EV Cargo enters this next phase of development from a position of strength, as we power the global economy by providing technology-enabled supply chain services.
"We are all very excited about our plans for growth and expansion and I am thrilled that we have managed to assemble such an incredible team of people."
He added: "It is also my pleasure to congratulate Michael Conroy on his promotion to CEO of EV Cargo UK, Clyde Buntrock on his expanded responsibilities and the entire EV Cargo team on our continued success."
The management restructuring is part of a wider strategy which will also see Paul Coutts join EV Cargo as chief operating officer on 1 September 2021. Coutts, who will be based in Hong Kong, joins EV Cargo from Singapore Post where he was group CEO.