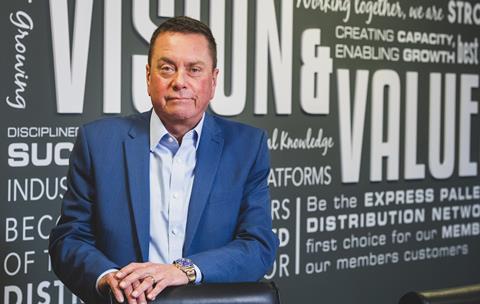 Adam Leonard (pictured) has left Palletforce, just four months after taking over the role of chief executive from Michael Conroy.
Leonard's departure closely follows that of Conroy, who made a "personal decision" to leave parent company EV Cargo in September, less than two months after being appointed its UK boss.Leonard was seen as a safe pair of hands to replace Conroy at the time of his appointment in August, bringing years of experience in the sector to the role.His previous posts include chief executive of The Pallet Network which he joined in 2000 as general manager, leading a management buyout in 2007. In January 2020 Leonard joined Palletforce as its member relations director.

Asked why Leonard had left Palletforce after such a short tenure, an EV Cargo spokesman said the network had undergone a major restructuring of its senior management team "to strengthen its position for the future".

The restructuring sees the role of Palletforce chief executive disappear with operations director Mark Tapper promoted to the newly created post of chief operating officer – a role the spokesman said came with "expanded responsibility and authority to deliver operational excellence".

Tapper will report to EV Cargo chief operating officer Paul Coutts.
Read more
In addition, general manager Jo Duncan has been promoted to the new role of hub operations director, while Simon Gibbard, general manager of network operations, takes on the position of network operations director.
David Breeze, regional director for Europe, becomes network development director, while group commercial controller Deb Wallbanks has been promoted to the post of commercial director. Simon Bradbury, UK head of sales and strategic accounts, steps up to the newly created role of sales director.
Commenting on the restructuring Tapper, said: "The challenges of 2021 have meant that Palletforce has become more intensely focused on and committed to being the leading network in the sector.
"To support this and further drive operational excellence, there have been a number of people and organisational developments across our senior management team as we continue to invest in people to ensure the highest levels of service to our member businesses.
"Overall, these changes strengthen Palletforce's operational capability and enable us to increase our focus on member recruitment to strengthen delivery capability and ensure that we continue to deliver the highest levels of quality service to Palletforce members and their customers."
One pallet network chief executive said: "Pallet networks are hands-on entrepreneurial SMEs and that style of hands-on management does not always sit well with venture capitalists."
Other industry veterans said the departure of both Leonard and Conroy was indicative of a wider restructuring of the pallet network sector, which has also seen Mark Duggan leave his role as MD of The Pallet Network last July and Nigel Parkes step down as MD of Pallet-Track in April.