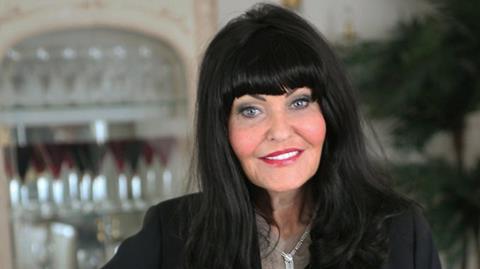 Hilary Devey CBE, founder of the Pall-Ex network, has died, aged 65.
The entrepreneur (pictured), who gained nationwide fame as a Dragon's Den panelist, died on Saturday at her holiday villa in Morocco after battling a long illness.
Devey left school at the age of sixteen, and served for a short while in the Women's Royal Air Force, in air traffic control and the supply accounts department.
After seeing her father go bankrupt when she was seven and witnessing bailiffs arrive at the family's home, Devey was determined to become financially secure, but at the same time was ready to risk everything to succeed.
In 1996 she took a leap of faith and sold her house and her car in order to launch Pall-Ex, which shifted 117 pallets on its first night. By the time she sold it in 2019 the business had a turnover of £85m and partnerships established across Europe in Italy, Spain, Portugal, Romania, France and the Benelux region.
The business, which has since acquired pallet network Fortec, currently transports over 45,000 pallets per night nationally and internationally.
Kevin Buchanan, chief executive of Pall-Ex, who worked with Devey before leading the management buy-out of the netowork in 2019, said: "It is with the greatest of sadness that Pall-Ex Group confirms the passing of our founder, Hilary Devey CBE.
"Hilary's unique vision and determination were the driving force behind the early success of Pall-Ex.
"With Hilary at the helm, Pall-Ex established the pallet network model in the UK and built a forward-thinking, international operation, establishing our position as the number one network for quality.
"While Hilary stepped away from the business in 2019 to pass ownership to Pall-Ex members and its senior management team, the drive and commitment she inspired in us all remain at the heart of our organisation.
"This is an incredibly sad day, but we are thankful to Hilary for allowing us all to be part of Pall-Ex Group's successful journey, which we will continue in her memory."
Added Paul Sanders, chairman of the Association of Pallet Networks: "APN would like to acknowledge the considerable contribution of the late Hilary Devey to the formation and development of our sector.
"It was with great sadness that her colleagues throughout the sector learned of Hilary's death. She was a unique and vibrant person, and was one of the earliest members and supporters of the APN. For many years she remained an inspirational and effective member of our association.
Read more
"Hilary made an impression wherever she went. She was a born entrepreneur and
innovator. She raised the profile of logistics. She forged a successful pallet network
business when the concept was still being proven. She went on to create a larger-thanlife personal brand, which extended to TV.
"She was awarded an CBE for services to the transport industry and charity in 2013.
"We would like to extend our heartfelt condolences to Hilary's family. They may rest
assured that she will be missed."
Devey was a well known character in the pallet network and logistics world but rose to national fame after she joined BBC Two programme Dragons' Den in 2011.
However her television career began when she appeared in Secret Millionaire in 2008, in which she showed her generous spirit by donating more than £70,000 to the Back Door Music Project and the Syke Community Centre in Rochdale.
She also took part in The Business Inspector for Channel 5, a four-part documentary series in which she used her experience to help struggling small businesses become profitable
In September 2012, Devey also presented a BBC Two mini-series called Hilary Devey's Women at the Top, a joint Open University and BBC Two production.
Other TV productions included Channel 4's business documentary The Intern, in which Devey gave three young interns a week's trial in the job of their dreams and Running the Shop, which aired in June 2015.
In the same year Devey also appeared as a panellist on a number of occasions on the ITV lunchtime chat show Loose Women.
Devey was the subject of a host of awards through her career including the Sir Robert Lawrence Award for Lifetime Achievement from the Chartered Institute of Logistics and Transport in 2009 and the Personality of the Year in the International Freight Weekly Awards for 2010.
In 2010 Devey received an Honorary Doctorate of Law from the University of Leicester in 2010 for her services to industry, followed in 2012 by the award of an Honorary Doctorate of Business Administration from the University of Bolton, for services to business, and by an Honorary Degree of Doctor of Business Administration from the University of Wolverhampton in 2014.
She was also appointed Commander of the Order of the British Empire (CBE), in the 2013 Birthday Honours, for services to the transport industry and to various charities including the Carers' Trust. She was also a patron of the Stroke Association, having suffered a stroke in 2009.
Devey was married twice and leaves behind a son, Mevlit Brewster-Ahmet, who is 35.