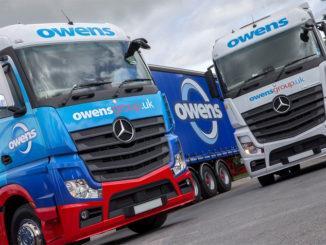 Owens Group said it would provide space for any Ukrainian drivers who needed to park up their HGVs in order to return home due to the escalating conflict in their country.
The Llanelli, Carmarthenshire transport company said it would ensure the vehicles were kept safe and secure free of charge until they returned.
Robert Williams, company secretary, said the gesture demonstrated the nature of the business and its family ties: "It's just in the nature of the company to do things and help communities," he said.
"It's in the blood of the family to do something and make a difference, they're not just in business for the sake of it.
Read more
"You saw it through the Covid pandemic and how we helped the NHS and we have got to try and do our bit now too."
The offer follows help provided by Carlisle-based dealership Border Trucks last week to two Ukrainian drivers who wanted to return home to see their families and defend their country.
MD Stephen Whitehead and his wife arranged for their vehicles to be safely parked in a secure compound and organised a flight for the two men to Poland.