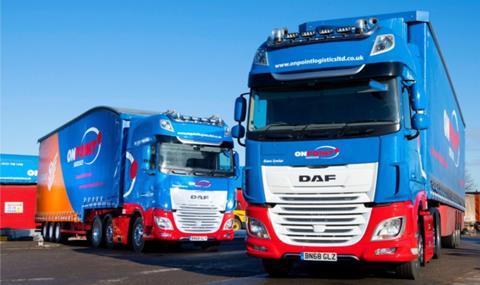 Onpoint Logistics has seen its fuel bill slashed by a third (34%) and productivity boosted by 14% after installing a Webfleet fleet management platform.
The Birmingham-based specialist logistics company, which operates around 60 vehicles, ranging from vans to 44-tonne trucks, worked with Webfleet Solutions premium partner Communicate Better to identify the best solution for its needs.
Carl Delaney, MD at Onpoint Logistics, said: "As we specialise in providing same day or next day delivery throughout the UK and parts of Europe, optimal efficiency and seamless processes are crucial to our business.
"We needed a solution that would help us manage and monitor our fleet in real-time, reduce costs, and provide key data insights to improve driver behaviour.
"We turned to Communicate Better who delivered a smart, time-saving Webfleet fleet management platform that is cost-effective, boosts productivity and keeps our drivers safe out on the roads."
The solution includes 24/7 automated reporting and asset tracking, which gives full visibility of the Onpoint Logistics fleet, along with OptiDrive 360 which helps cut fuel consumption by giving drivers real-time feedback and advice on their driving performance.
A 360-degree integrated vehicle camera system is also included in the deal which provides video evidence for every driving event.
Delaney said: "Having full transparency over our fleet and the powerful insights needed to take decisive action has saved us time and money and given us the ability to redirect vital resources and further invest in our business."