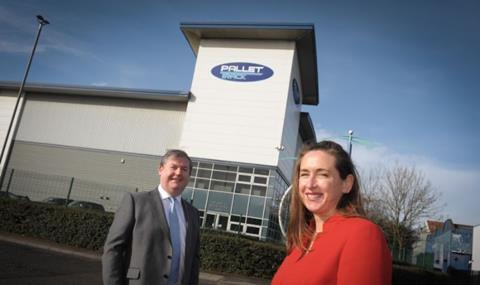 Nigel Parkes is stepping down as MD of Pallet-Track and will be replaced by the network's chief financial officer Caroline Green, who will take on the role of chief executive.
Parkes, who founded Pallet-Track 19 years ago, will remain a significant shareholder of the business, taking a seat on the board of parent company Palman.
Green, who was appointed as Pallet-Track's CFO in September 2020, was offered the role after impressing Parkes with her "fresh perspective" on the business. She will take on her new role in April this year.
Green began her career in the supply chain of global copying giant Xerox and joined Pallet-Track from e-commerce returns solutions provider ReBound Returns, where she was chief operating and finance officer.
She has also served as a non-executive director at the British Business Bank, a government-backed initiative to support small to medium sized enterprises.
Parkes said he had intended to look for a successor since selling a controlling stake in the business to private equity firm TPA Capital two years ago.
Parkes added: "I knew I was going to step back from the day-to-day running of the business and we were going into the market to recruit a replacement for me.
"However, working with Caroline from the autumn of last year, I soon realised that she was bringing a fresh perspective to the business as CFO – she is so enthusiastic and a breath of fresh air, so the board and I asked her if she would consider taking on the CEO role and I'm delighted to say that she accepted.
"From a personal point of view, leaving Pallet-Track was always going to be a big step for me, but I know I can now stand down knowing the business is in very good hands going forward."
He added that Green shares his approach to the business in terms of drive and enthusiasm and the "old-fashioned" ethic of putting people before profit.
Green said: "This is a bittersweet moment for me – I am extremely honoured and excited to be taking Pallet-Track forward, but unfortunately, it will be without Nigel day to day – these are very big shoes to fill.
"Nigel has built a business on very firm foundations, maintaining a strong growth trajectory throughout the last 19 years even through some difficult economic circumstances including the financial crash in 2008 and the current pandemic.
"These have all been challenges – and there will undoubtedly be more uncertainty in the future - but we look ahead from a position of strength because we have invested in the people and proven processes that will see Pallet-Track continue to grow," she added.
Parkes launched Pallet-Track in Wednesbury in January 2004 and moved 852 pallets on its first night of operation.
The network now has a 267,000sq ft central hub in Millfields Road, Wolverhampton, a southern hub in Welwyn Garden City and a northern hub in Wigan, Greater Manchester. It tranships in excess of 18,000 pallets per day.