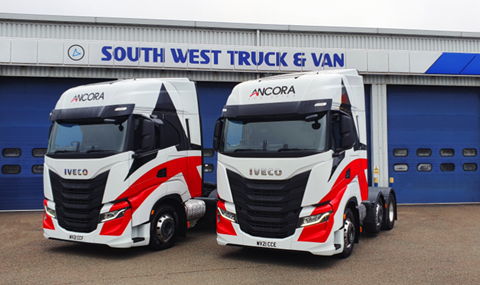 Bristol-based Ancora Logistics has taken delivery of two Iveco S-WAY trucks just weeks after the company was launched to fill a gap in the market.
Founded in November 2020 by father and son Ian and Brad Hope, the firm, which is close to junction 18 of the M5, was created to meet demand for agency drivers that could be supplied with a truck.
The Hopes spotted the gap in the market after five years of supplying HGV drivers via its sister company Ancora Recruitment. They found clients often needed both a driver and a spare truck. As a result Ancora Logistics was created to supply both.
Brad Hope, Ancora operations manager said: "These are our first trucks, and what makes it even more special is that they are the Iveco S-WAY, which is brand new to the market and quite a head-turner.
"We are also very proud to be one of the first haulage providers in the South West to run these trucks."
The vehicles are being supplied by South West Truck and Van (SWTV) an Iveco franchise dealer and service agent covering the South West of the UK and operating depots in Avonmouth, Gloucester and Swindon.
Stuart Beeton, SWTV commercial director said: "We are delighted to be working with Ancora Logistics. They are a local start-up and we will be looking after them with all of their repair and maintenance requirements.
"The IVECO S-WAY offers outstanding fuel efficiency, advanced connectivity to optimise vehicle uptime as well as an excellent onboard driver environment."
The 6x2 480 bhp tractor units boast leather heated and cooled seats, flat bottomed leather steering wheel, alloy wheels, integrated TomTom Sat Nav, refrigerator, full LED headlights and many fuel-saving devices, which come as standard for Ancora Logistics.
Brad Hope added: "From start to finish SWTV have provided us with excellent customer service. Starting a new business can be daunting, especially during a pandemic, but the support and commitment from SWTV has been really refreshing."
Ancora Logistics provides nationwide transport solutions and plans to expand its fleet over the next 18 months in order to meet growing demand.