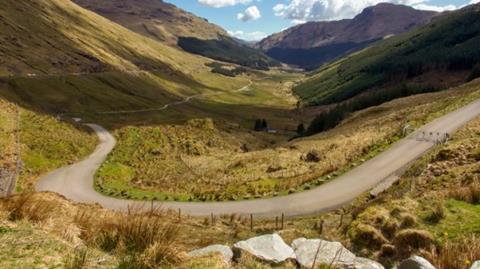 Transport Scotland has published its preferred long-term solution to a notorious stretch of road in the Highlands plagued by landslips.
Following an assessment of 11 route corridor options for improving access to Argyll and Bute along the A83, the government said the Glen Croe corridor option was the most cost effective and quickest to deliver.
Pressure has been growing for a permanent solution to the key transport artery along the stretch known as the Rest and Be Thankful.
In 2020 it was closed for more than 200 days, with 20,000 tonnes of debris recorded, up 15,000 tonnes on the previous year.
Transport Scotland said work on route options had been accelerated and it was now presenting all the possible options for consideration by the public.
Read more
It said the range spanned traditional roads and localised structural protection to full tunnel options, with a tunnel taking up to two years to build.
Short and medium-term mitigation works are also being taken forward and include a new debris cage, catchpit, debris fencing and flood mitigation measures.
Michael Matheson MSP, cabinet secretary for transport, infrastructure and connectivity, said: "Following the disruption caused by landslips at the A83 Rest and Be Thankful, I understand the frustration and disruption that these bring for local communities and road users.
"Identifying the preferred route corridor is a major step forward for this vital work and we are now pushing forward to look at five alternative options within that online corridor and starting the process shortly to appoint design consultants for this work.
"Following substantial public feedback our future assessment work will place particular emphasis on the timescale to deliver these options."