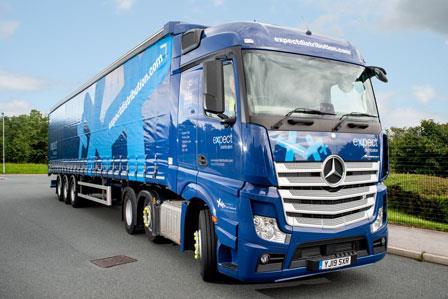 New MD Matthew Kilner and operations director Andy Taylor officially take over Expect Distribution from founding chairman Robert Rushworth and former MD Neil Rushworth today (4 July), the logistics company has announced.
The move marks the completion of their management buyout of the £40m turnover business earlier this year.
Expect Distribution, which was founded in 1988 with two vehicles, now has more than 360 employees, a 140-strong fleet and three warehousing sites in West Yorkshire, providing 70,000 pallet spaces.
Clients include fast moving consumer goods brands Boost Drinks and Astonish, national retail chain Card Factory as well as customers in the pharmaceuticals, construction, automotive and office furniture.
Kilner said: "We're both incredibly excited to work with the team to oversee the further growth and development of the company and we're on track to grow by 15 to 20 per cent this year, and that's our goal year on year.
"I grew up around the transport and logistics sector, having come from a long line of family working in the industry. In a tough industry, Expect is a very special place, we stand out for our values, client-focused attitude and solutions, and constant commitment to being the best in our field. I couldn't be prouder to be driving this business forward."
Kilner was previously Expect's financial director. He has also held positions at Walkers Transport as group financial controller, at chemical manufacturer Univar, and prior to that worked in practice for several years for Simpson Wood Chartered Accountants.
Read more
Taylor added: "We're proud to be taking Expect Distribution forward and continuing its success story. As we know there are challenges with recruitment and infrastructure across the sector. But we have plenty of opportunities too.
"In an evolving market our differentiator, or sweet spot, is in helping SMEs who are on a growth trajectory to grow and that really works for us. We grow with our customers."
Taylor was formerly transport director at Expect Distribution, overseeing the general distribution and contract logistics divisions as well as IT. In his new post he will also oversee the fast-growing warehousing division.Prior to joining Expect Distribution Taylor held management anddirectorship roles for more than a decade at XPO, 3T Logistics and BLG Logistics.
Kilner said: "We have some outstanding people at Expect, and our goal is to add further talent to the team to help us make a difference to our customers. We do an important job, we're the best at what we do, and we want everyone to feel good about being a part of that every day as we continue to grow."