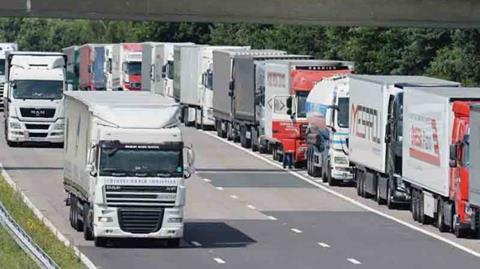 The Unite union has strongly criticised plans to rely on a movable concrete barrier on the M20 to deal with cross channel disruption while ignoring the welfare needs of HGV drivers.
It said the replacement of former traffic initiative Operation Brock with a new system was going ahead without consultation with the industry and with inadequate welfare provisions.
The union quoted an "admission" from the Department for Transport in a Freedom of Information response that "in the event of severe traffic disruption, the Kent Resilience Forum will make an operational decision on whether to deploy portable toilets on the M20 Junctions 8-9 coastbound and on both sides of the M26."
Unite national officer Adrian Jones said: "There is no provision for even the most basic welfare provision in the government's scheme. The delivery of a few portaloos as an afterthought is simply not good enough.
Read more
"If a problem arises on the roads to Dover not only is there no welfare provision but drivers have no idea how long disruption will last, making it almost impossible to abide by driving regulations."
Transport Secretary Grant Shapps announced that the replacement to Brock, which involves Highways England deploying a barrier along the M20 to keep Kent's roads moving at times of disruption, could be set up "within hours" and will be on standby from later this year.
The new solution also means that Highways England's work on an 'off-road' replacement for Operation Stack, which would have included a new large lorry holding area in Kent, has been scrapped.
Jones said this meant a specific lorry park at Manston – long mooted as a viable alternative – which would have provided drivers with safe facilities and proper welfare provisions had been shelved: "The government has once again failed to consult with drivers before introducing these measures," he added.
"The health, welfare and safety of drivers who will be most affected by future disruptions have been ignored or forgotten."