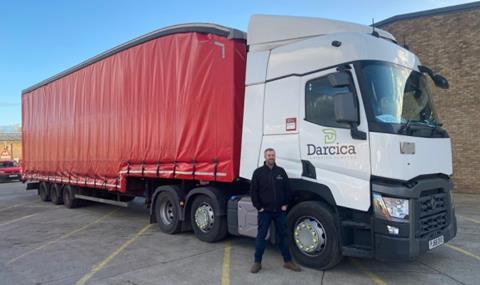 Bicester-based delivery firm Darcica Logistics is expanding into haulage just 18 months after the company was created.
The firm, which was launched in September 2020 by former Grundon Waste management regional manager Anthony Tattersall (pictured), already has a contract with Amazon and is now embracing multiple pallet deliveries in the Bicester area after joining Palletways.
Darcica Logistics also offers storage and fulfilment at its 15,000sq ft warehouse and sustainable deliveries via a fleet of fully electric vehicles.
Read more
The company has also acquired its first truck, a 44-tonne Renault T480, which is being supplied and fleet managed by Hexagon Leasing on a one-year lease.
Tattersall, who is MD at Darcica Logistics, said: "We started this business in September 2020, and run a fleet of between 25 and 50 vehicles depending on the time of year.
"My background is in logistics and this move felt like the next logical step for the business."