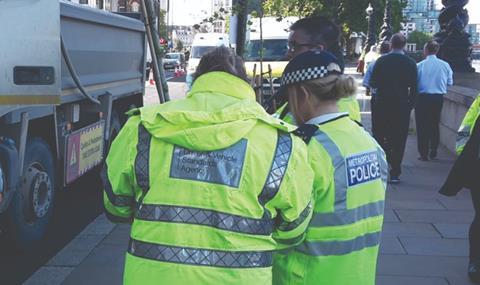 A GB-wide operation targeting high risk vehicles found one in 10 had the most dangerous mechanical issues, according to the DVSA.
The serious faults uncovered on HGVs and light commercial vehicles included problems with steering, suspension, wheels, tyres and brakes.
The DVSA said all of these issues were dangerous enough to affect the driver's control of the vehicle and could have resulted in a serious incident.
As a result, the vehicles were immediately removed from the road.
As well as the enforcement agency, the co-ordinated day of action also included National Highways and police forces from across Britain.
High risk vehicles were targeted from Edinburgh to Dover and Glasgow to Plymouth.
The DVSA said there were 83 deliberate or negligent traffic offences recorded including the falsification of documents, licence issues, no operator licences, drivers' hours offences and carrying excess weight.
In total, 150 prohibitions were handed out during the operation that saw 410 HGVs and 108 vans and light goods vehicles checked across the country.
The DVSA added that although the operation found that the majority of the commercial vehicle industry is operating safely and legally, there was also "a concerning number of operators posing a serious risk" to others.
DVSA's director of enforcement, Marian Kitson said: "The results of this operation serve as a reminder of the risks associated with cutting corners on road safety.
"DVSA is here to support those who operate safely and legally and we want to ensure they are not disadvantaged by dangerous and reckless road users."
Commander Kyle Gordon of national police chiefs council roads policing operations said: "By breaking the law to seek a commercial advantage, a small minority of drivers and operators are endangering people's lives.
"Often the sheer size and weight of some of these larger vehicles means any collision they are involved with has even more potential to leave families and communities devastated.
"We really welcome the opportunity to identify those drivers who would put themselves and others at that risk, which is totally unacceptable."