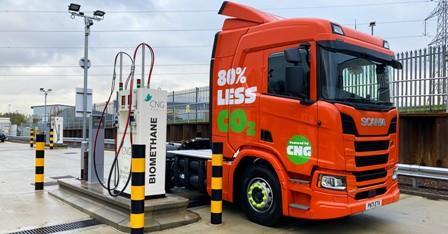 CNG Fuels has opened the first renewable biomethane HGV refuelling station near Glasgow, able to service 450 lorries a day.
The renewable gas supplier said the station would cut 70,000 tonnes of greenhouse gas emissions each year and puts Inverness and Aberdeen within range of its low carbon refuelling network for the first time.
It is located at the Eurocentral industrial estate off the M8 near Bellshill and will support both local Scottish fleets as well as brands making low-carbon deliveries from England to Scotland. The station is also located within proximity of two HGV dealerships - Scania and Iveco - which manufacture biomethane-ready HGVs.
Philip Fjeld, CNG Fuels CEO, said: "Glasgow and Scotland were at the centre of the world debate on climate change during COP26, injecting urgency into the global push to tackle the climate crisis.
"Our new station, just outside Glasgow, is an example of real-world action on climate, unlocking low carbon deliveries across the busiest transport routes in Scotland and supporting the country to meet its emissions reduction targets."
CNG said demand for renewable biomethane had grown by 1,000% in the last five years as brands seek to reduce their emissions in line with government net zero plans.