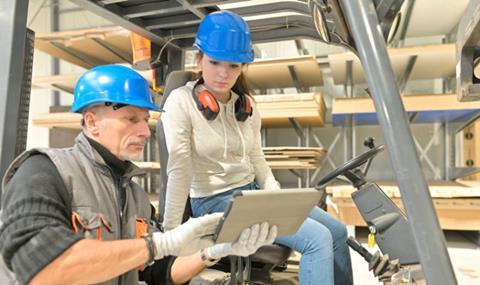 The government's proposed National Skills Fund has a "serious gap" which fails to address the need for training in the warehousing sector, according to the UK Warehousing Association (UKWA).
Responding to a public consultation on the National Skills Fund this month, UKWA said that despite there being a "clear need" for training in the warehousing sector, there are almost no training providers offering the Highfield L3 Diploma in Warehousing & Storage (RFQ) course. It points out that although this course is on the government's list of eligible qualifications, "in effect it is not really available".
UKWA's response to the consultation also highlighted concerns that employers and potential learners are unaware of what is available, that training providers and awarding organisations are unclear about exactly what is allowed, and that course content is misaligned with employers' needs.
The submission, made on behalf of the warehousing industry by UKWA, was put together by UKWA's Training Advisory Board, which is made up of association members as well as specialists from training and recruitment consultants and educational institutions.
UKWA chief executive Clare Bottle said, "In warehousing, the culture around training is sometimes negatively influenced by the view that skills and knowledge are best acquired through experience.
"This is normalised by the absence of any school qualifications such as GCSE, A level or BTec in supply-chain, logistics or warehousing.
Read more
"This must be addressed with better communication about careers, coupled with accurate information about all the financial options for relevant training."
She added: "In addition, training budgets are usually dedicated to mandatory training, chiefly RTITB accreditation for fork-lift truck driving, but also workplace requirements such as manual handling and first aid qualifications.
"Employers are faced with a range of options for training they must fund themselves, as well as a confusing array of public funding for other training. In the warehousing sector, this is a problem because there are typically slim profit margins, very flat management structures across shift-based teams and a focus on immediate operational concerns.
"Employers simply do not have the resources to read all the government guidance, assess the needs of their workforce, evaluate all the different options for training provision and fill in the appropriate forms."
In its submission, UKWA advised that the rise of e-commerce and the introduction of more automation and robotics in warehousing have both created skills gaps, underlining further the need for government funded and supported training.
Bottle concluded: "The UK Warehousing Association welcomes the opportunity to respond to the National Skills Fund consultation and to collaborate with stakeholders including the UK government, to ensure the logistics sector embraces integrated solutions to our labour shortages and skills gaps."