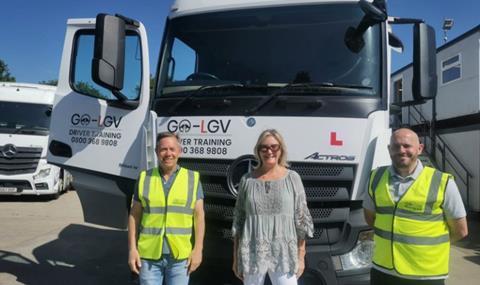 A local MP has praised a Gosport-based HGV training provider for simplifying the process for candidates to obtain their Class 1 licence.
Caroline Dinenage said GO-LGV was helping to bolster the workforce amid a shortfall in professional drivers, after she visited its premises to learn more about how it was encouraging people into the industry.
The process for gaining an HGV driving licence was streamlined in 2021 for applicants already holding a car licence.
GO-LGV was founded by Adam Grant and Damian Gaffney with the objective of simplifying the process and providing opportunities to as many candidates as possible through the fast track training route.
Dinenage said: "It was great to meet Damian and Adam to learn more about GO-LGV. There is a large shortfall in the UK for professional drivers and the rates of pay and job security are high, so I am delighted that we have a Gosport business looking to train future HGV drivers.
Read more
"Over the pandemic, we saw how vital hauliers were in keeping our country running and whilst the government has taken 33 proactive actions to address the shortage of HGV drivers, efforts by companies such as GO-LGV will help to bolster the workforce of this profession."
GO-LGV MD Gaffney said: "Obtaining your Class 1 HGV licence, which allows you to drive any heavy goods vehicle up to 44 tonnes without restriction, is much simpler than people think.
"You complete your medical and theory examinations, followed by an intensive practical training course typically consisting of 30 hours - approximately eight sessions - behind the wheel with one of our NRI qualified instructors.
"Our emphasis is on developing competent and professional HGV drivers, providing the skills not only to pass the test but also to pursue a successful career in the logistics profession."