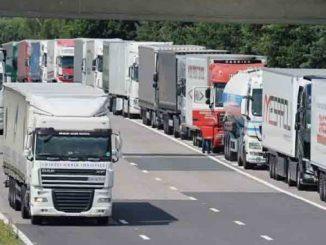 A moveable concrete barrier on the M20 to keep Kent's roads moving during cross-channel disruption won't be fully completed until 2022, according to Highways England (HE).
A specialist 'zipper' machine will enable the barrier to be deployed quickly on the motorway and is seen as a method of ensuring congestion-free traffic flows when the Brexit transition process ends at the end of 2020.
HE said the new scheme, costing £60m, is designed to ensure that the M20 can be kept open.
During normal traffic conditions, it allows the motorway to retain three lanes, a hard shoulder and 70mph speed limits in both directions.
Read more
In February, transport secretary Grant Shapps said the barrier would be on standby from later this year, a move cautiously welcomed by the FTA.
But according to HE's website, it will only be fully completed in 2022, with December 2020 marked as the date only for "temporary resilience".
The moveable barrier solution replaces Operation Brock, which saw the coastbound side of the motorway reserved for queuing HGVs heading to cross-Channel ports.