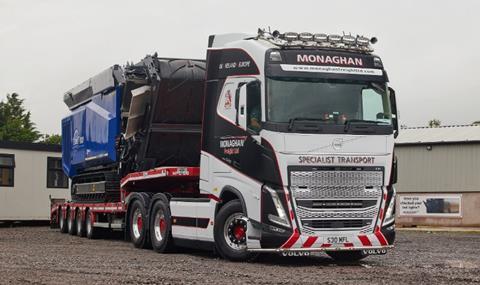 Monaghan Freight has expanded its fleet with the arrival of a Volvo FH 540 Globetrotter 6x4 tractor unit plated for 120-tonne operations.
The truck will be used to transport a range of specialist loads, from heavy-duty quarry equipment and excavators to transformers and generators.
Stephen Monaghan, MD at the Northern Ireland-based haulier, said: "We've always had an excellent relationship with Volvo Trucks, and so it was right at the top of our list when the time came to bring a new vehicle onto the fleet.
"Given the specialist loads we work with, and especially the sheer weight involved, all our trucks must deliver standard-setting driving performance, manoeuvrability and comfort.
"We're pleased to say that the Volvo FH easily delivers on all these fronts. It is the ideal product for our business."