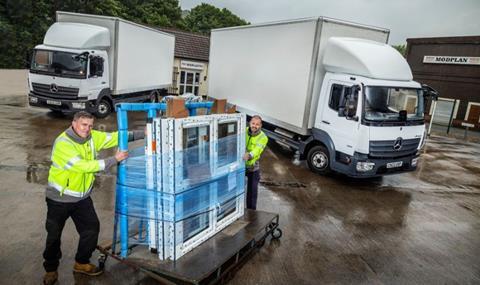 Window firm Modplan put Euro Commercials in the frame for its growth plans when it ordered seven new Mercedes-Benz trucks.
The Newport firm approached its local dealer for the Atego light and medium-duty vehicles in order to replace three from the previous Atego model generation and also to add four more in the face of growing demand.
"With the price of fuel continuing to rise to eye-watering levels, it also made sound business sense to invest in newer equipment, which is more economical to run and better for the environment," said Gareth Gough, Modplan logistics manager.
Modplan's exclusively MB fleet delivers PVCu windows, doors and conservatories to trade customers nationwide, accounting for up to 70% of its turnover.
The rest is export business, most of it with Scandinavia.
Gough added: "We purchased our first batch of seven Mercedes-Benz trucks from Euro Commercials in 2012.
"They were so much better in every respect than the vehicles we were using previously that we've stuck with them ever since."