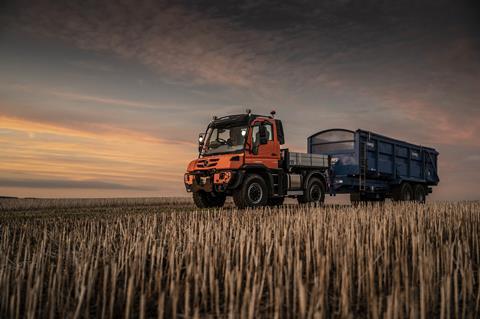 Agricultural specialist AM Agri (Alan Mackay Machinery) has been appointed as Mercedes-Benz Truck UK's new Unimog dealer in Scotland.
The Forfar-based company, which also operates from a second branch in Aberdeen, is adding the Unimog 4x4 to its portfolio of farm equipment brands.
The company, which is jointly owned and managed by Alan Mackay and Ross Anderson, will also provide after sales service to Unimog customers.
This is the latest of a series of deals that have seen the manufacturer extend its Unimog network, including the recent appointment of Blackburn's Ciceley Commercials, Ferndown Commercials in Wimborne in Dorset, and Rossetts Commercials in Aldershot, as Unimog dealers.
Ross Paterson, head of special trucks at Mercedes-Benz Trucks UK, said: "We are delighted to be welcoming AM Agri (Alan Mackay Machinery) to the Unimog family.
"As a highly experienced and trusted supplier to the agricultural community, our new point of representation in Scotland is well placed to grow the Unimog's share of a key market.
"We now look forward to working with the company team to develop opportunities in some of the other sectors in which the multi-talented Unimog also excels.
"There will certainly be a focus on forestry, but the Unimog is also ideally suited, for example, to utilities operations, highways management, and special emergency services applications."
The Unimog range encompasses gross weights from 7.5 to 16.5 tonnes and is built around two core variants: the UGE implement carrier (pictured) and the UHE extreme off-roader, which can be fitted with many different types of body. Both offer a combination of all-terrain performance, on-road speed, fuel-efficiency and flexibility.
Initially, AM Agri will run the Mercedes-Benz franchise from its head office. However MD Alan Mackay said the company will open a third location next year, to the south of Forfar. "This will be our Unimog hub, and the base for our dedicated sales executive," he added.
Mackay approached Mercedes-Benz Trucks UK after being invited to put a customer's Unimog through its paces.
He said: "I was mightily impressed and quickly realised the vehicle's commercial potential.
"If you stand still in business then you're actually going backwards, so I was keen to grasp the opportunity and contacted the Unimog team to enquire about franchise opportunities."