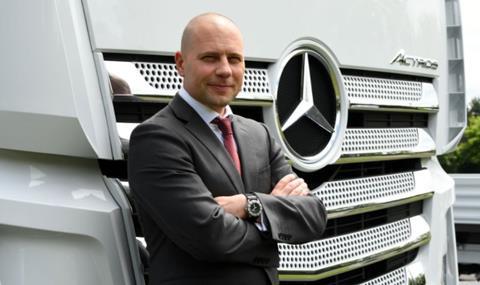 Mercedes-Benz Trucks UK has appointed Heiko Selzam (pictured) as its new MD.
A familiar face within the global business, Selzam joined what was then Daimler AG in 1996 as sales executive for commercial vehicles.
Since then, roles at the truck maker have taken him to the Middle East and Luxembourg and in his current role he established Mercedes-Benz Trucks Austria GmbH.
Selzam's UK appointment marks a return to the company he spent two years at as sales director, between 2017 and 2019.
He said: "I already know many employees, customers and business partners, and I am very much looking forward to working with them again.
"There are some challenges to overcome in our industry, but I am confident that the excellent team will combine and we'll accomplish all our tasks."
Jean-Marc Diss, head of sales Europe, said: "Heiko's extensive business experience and strong leadership skills are two significant assets which will support our business success in the UK."
Heiko will succeed Wolfgang Theissen, who passed away in September.