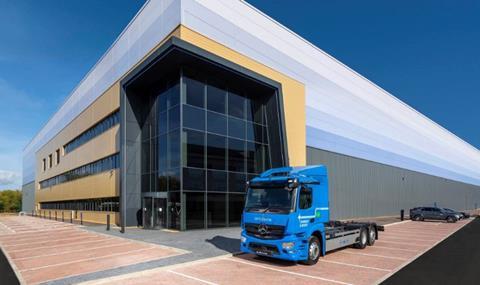 Mercedes-Benz Trucks' new 140,000sq ft parts logistics centre, dedicated to holding parts only for its HGVs and FUSOs, will commence operations on 3 January.
The facility in Willen, Milton Keynes, provides 20% more storage capacity than is currently available and will be operated by XPO Logistics.
Heiko Selzam, Mercedes-Benz Trucks UK MD, said: "Together with members of our dealer network, we are committed to providing operators of Mercedes-Benz and FUSO trucks with the industry's finest aftersales back-up.
"This fantastic new centre, coupled with the ground-breaking agreement we have reached with XPO Logistics, provides the perfect platform from which we will be able to provide our customers with the fast, efficient parts support they deserve."
Dan Myers, XPO Logistics UK and Ireland MD, said: "The three-pointed star is an iconic brand which stands for reliability and quality.
"Working in partnership on this new, state-of-the-art distribution centre, we will embed these essential characteristics in every aspect of the Mercedes-Benz Trucks operation."
Fit-out of the new centre is currently underway, with the first deliveries of parts from Germany due to arrive this week.