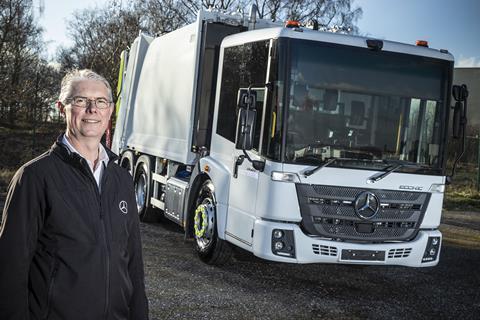 Fleet sales of the Mercedes Benz Econic are now the remit of the newly expanded Special Trucks division, following a head office restructuring.
The Special Trucks division will also spearhead the launch into the UK market of the manufacturer's fully electric Mercedes-Benz truck models.
The company said the move will create "more sharply focused sales support".
It added that moving the Econic sales from the remit of Mercedes-Benz Trucks UK's key account management department "better reflects the technical expertise of the team dedicated to providing consultative support to dealers and operators of the low-entry chassis".
The restructuring also sees a high-level 'job swap' with Ross Paterson (pictured), former head of product and marketing, taking up the position of head of special trucks, while Katie Purcell takes on Paterson's former role.
Paterson said: "The decision to bring Econic under the Special Trucks 'umbrella' will help us to give this important vehicle the heightened sales focus it deserves.
"Our municipal sales and special application managers are more technically orientated than the average truck sales specialist. Given the nature of the product, and the fact that the bodywork with which these chassis are fitted typically represents a very substantial capital investment, this is entirely appropriate.
"It's imperative we offer the sales support that customers and our dealers can rely on to ensure vehicles are 100% suited to their requirements."
He added: "This is a very exciting time to be pulling together some of the expertise that exists within our business, refocusing and re-engaging to ensure that we're making maximum use of the know-how and compatibilities within the team.
"There are huge opportunities to grow our sales of specialised trucks, both now and in the not-too-distant future, as our electric Mercedes-Benz offering starts to come through. Special Trucks is what we're called, because special is what they are, and that's a huge source of pride to me and my colleagues."