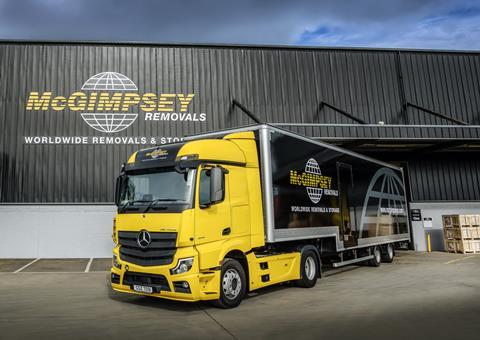 Six years after buying its last Mercedes-Benz tractor unit, Northern Ireland-based McGimpsey Removals has returned to the three-pointed star for its latest purchase.
Delivered by local dealer MBNI Truck & Van, the new arrival is a 4x2 Actros 1843, with aerodynamic StreamSpace cab. It joins a fleet of 12 other trucks – four artics and eight rigids of various sizes – as well as five Luton-bodied vans.
McGimpsey Removals provides domestic and international moving and storage services. The company's logistics division also offers a tailored two-man 'white glove' delivery service for items including medical and gym equipment as well as new furniture.
Operations director Steven Gibbons said: "Some years ago our fleet was dominated by Mercedes-Benz, and we were always very happy with the quality and reliability of the trucks and the service from the dealer.
"Then we were tempted away, and purchased some trucks from a rival brand. Now, though, I'm very happy to have a new Actros on the fleet again. The new truck is clearly built to a very high standard and, once again, the service from MBNI has been exemplary.
"Sales executive Adam Findlay listened very carefully to our particular needs and came back with a very competitive price for what is quite an unusual specification – a 4x2 chassis with a high-spec double sleeper cab.
Read more
"He was very attentive throughout the ordering and delivery process and has stayed in touch since the truck hit the road to make sure all is well."
The Actros is powered by a 10.7-litre engine generating 315 kW (428 hp), which drives through a 12-speed Mercedes PowerShift 3 automated manual gearbox. The cab features Multimedia Cockpit, interactive, the optionally upgraded version of its intuitively-operated twin screen dashboard – in addition to a larger, 12in instrument panel, this comes with extra functionality.
It works with a high-volume, step-framed SDC trailer and undertakes domestic and international removals work, as well as specialised logistics, between Northern Ireland and the UK mainland – like the rest of McGimpsey's artic rigs the truck usually leaves the company headquarters in Bangor on a Monday morning, and does not return until the end of the week.
Gibbons said: "Furniture removals mean you're carrying a lot of air so, while load space is important, we rarely get anywhere near the maximum permitted weight. That's why both the tractor unit and trailer run on two axles.
"The Actros is a real high-quality truck, with a very well designed interior. The StreamSpace cab provides a comfortable living space, even for a team of two for a week at a time. It's been well received by our drivers too and looks great in our colours, so is a good advert for our brand when out on the road.
"We're also glad to have reaffirmed our relationship with MBNI Truck & Van. Mercedes-Benz vehicles have always served us well, frequently over some very high mileages, and the dealer has provided the quality back-up that helps keep out fleet running smoothly," he added.