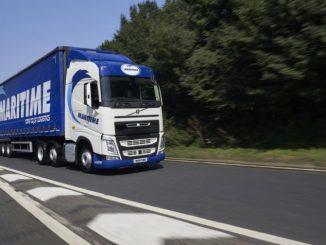 The launch of Maritime Transport's intermodal division followed by its acquisition of Wincanton Container Logistics helped boost pre-tax profits last year by 41% to £13.3m.
Despite Brexit uncertainty affecting container flows into the country and the Covid-19 pandemic causing significant container reductions, the Suffolk logistics firm weathered the storm and reported a turnover broadly comparable to the previous year of £323m (£329m).
In a report signed off by the board, Maritime Transport said the year ending 27 December 2020 had been "one full of challenges and uncertainty in the UK but has also created opportunities within the transport and logistics sector".
The company established an intermodal division in 2019 and this expanded during the period, with additional train services added to the rail network.
It said this move had "a significant impact on the utilisation of the container road fleet and increased the gross profit margins as a result".
Read more
During the fourth quarter, Wincanton disposed of its container business to Maritime for around £1.5m and this was quickly integrated into its existing container operations.
The report said: "This has been an extremely successful acquisition and the full annualised benefit will be reflected in 2021.
"During this period, the cost base has been reengineered, having a further uplift in gross margins."
It added: "Driver wage costs increased again in this period as we continue to improve the average hourly rate for professional HGV drivers.
"Their pay and safety are of paramount importance to the business."