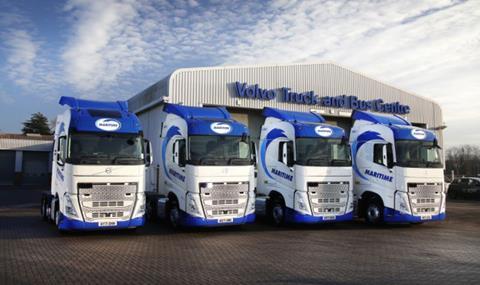 Maritime Transport has begun taking delivery of 355 Volvo FH tractor units with I-Save, making it the UK's largest operator of the truck maker's turbo compound engine trucks.
The significant order followed a successful fuel trial at the end of 2019 as well as the performance of its existing Volvo fleet, which the company said had proven to be among its most fuel efficient HGVs.
Maritime currently runs 1,150 trucks and when all of the FHs arrive during 2022 it will take Volvo's share in the fleet close to 50%.
Read more
The majority of the new units are 460hp models with Globetrotter cabs, although 25 feature a 500hp engine plus the larger Globetrotter XL cab for specific drivers in the Maritime fleet.
Paul Heyhoe, Maritime fleet director, said: "The decision to order a significant number of Volvo vehicles was made when they introduced the turbo compound engine.
"We ran a comprehensive fuel trial which compared the first generation FH with I-Save with other vehicles on our fleet and we saw some great results."
Supplied by Volvo Trucks UK & Ireland's national fleet team, the vehicles will cover around 125,000km per year shifting containerised goods from ports across the UK.