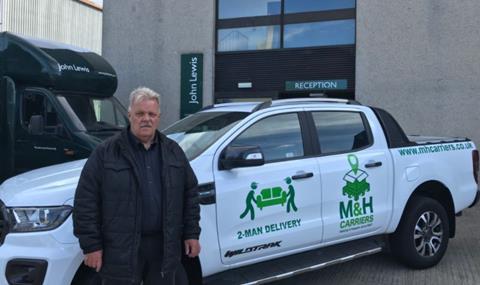 M&H Carriers has struck a deal with John Lewis to make use of its warehouse in Aberdeen as it caters for an increase in demand for deliveries in Scotland's north east.
Under the arrangement, the John Lewis team will handle all warehousing, picking and loading of M&H Carriers' home deliveries in the region.
In addition, the haulier has hired three new two-man crews across the country and is recruiting for drivers at all its depots, with plans for all locations to have two-man teams operating by the end of the year in response to rocketing demand.
Mike Buchan, M&H home delivery manager, said: "The demand for two-man deliveries has gone through the roof over the last few months as shopping habits continue to change and more people are ordering large and bulky items online.
"By moving into these new premises, we are not only able to provide a greater delivery service to customers across the north of Scotland - but we have also been able to help provide work and employment for all those who worked in the warehouse while John Lewis' Aberdeen store was open."
The company also has depots in Inverness, Dundee and Argyll - with satellite depots in Helmsdale, Elgin, Skye and Fort William.