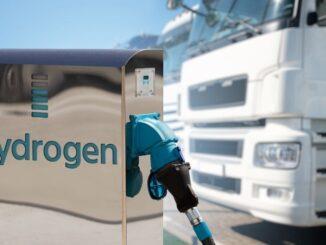 New research has shown "significant interest" among major operators for hydrogen trucks for a range of applications with some confirming they would be happy to pay more in the short term to trial a small number of fuel cell trucks.
The research was carried out by H2Accelerate, a collaboration of truck manufacturers Daimler Truck, IVECO and Volvo Group, and hydrogen infrastructure providers Linde, OMV, Shell and TotalEnergies.
The whitepaper, 'Understanding and meeting end user expectations', looks at the level of industry support for hydrogen fuelled long-haul trucking, based on focus group discussions with truck end-users and logistics providers.
The paper sets out the conclusions of a series of focus groups with companies operating major fleets, such as Amazon, Nestle Waters, DB Schenker, and Kuehne-Nagel.
It found that: "There is significant interest in hydrogen as a zero-emissions trucking solution, with good awareness of its merits as a technology amongst end users."
The whitepaper said that the organisations, which all have public-facing decarbonisation targets, understand that hydrogen freight will be a required complement to battery vehicles in order to achieve full decarbonisation of their operations.
Read more
It found that this was "particularly true" not only for long-haul applications, where the advantage of fast refuelling over battery electric alternatives was stressed, but also for transport in grid constrained areas or in applications where vehicles are double shifted.
The research also showed that, with regards to the cost and operation of the vehicles, end users were willing to accept that in the early stages of roll out, vehicles are likely to be more expensive and infrastructure more limited than the incumbent diesel trucking system.
Several end users stated that while they would be happy to pay more in the short term to trial a small number of fuel cell trucks, their business model requires that in the long term, scale improvements and supportive policy allow hydrogen trucks to achieve parity with diesel.
Similarly, it is expected that in the long term, network design, station availability, and vehicle maintenance develop to allow end users to achieve similar operational convenience and flexibility to diesel.
David Burns, VP of clean energy development at Linde, a H2Accelerate member, said: "The findings of this study confirm what we have been hearing from industry partners and customers for the past year or so: the heavy-duty transportation sector is on board with using hydrogen to effectively replace fossil fuels.
"We know that the technology is there – we have delivered over 200 fuelling stations around the world and successfully fuelled more than 1.5 million vehicles. Together with the H2Accelerate members, we are now working on scaling up the technology and building a robust infrastructure to enable the heavy-duty transport sector to operate with zero emissions, reliably and at a competitive cost."
H2Accelerate's brief is to seek public support to fund early pre-commercial projects to activate the market on the path towards a mass market roll-out; communicate around the technical and commercial viability of hydrogen fuelled trucking at scale; and hold discussions with policymakers and regulators to encourage policies which can support a sustainable and speedy activation of the zero emissions long-haul trucking market.