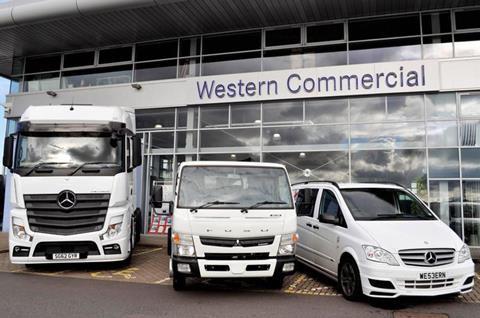 Scottish Mercedes-Benz Trucks dealership Western Commercial will no longer sell HGVs from December due to the investment needed to continue the service.
In a letter to customers, the company – which has sites in Bellshill, Glasgow, Broxburn and Dundee – said it was no longer sustainable to keep the truck business going.
The letter said: "We have reached a stage where for us to take the business further, meet your expectations, satisfy the requirements of the manufacturer and fully engage with the incoming generation of e-trucks, we would be required to make substantial investments in all key areas; staff, vehicles, facilities, training etc.
"Having reviewed these requirements at length, we had to accept that the investments required are not sustainable and we have therefore given notice to Mercedes-Benz Trucks UK Ltd.
"Our truck sales franchise agreement will end on 6th December 2021."
Western Commercial stressed that it would continue after this date with its truck aftersales operations across all its sites and it added: "For those customers with vehicles on-order with us, we will have contacted you direct already to discuss any impact this news may have on your order.
"In the vast majority of cases we will be able to fulfil the orders as planned."
A Mercedes-Benz Trucks spokesman said: "Western Commercial will continue selling and servicing Mercedes-Benz Trucks until December 2021.
"Thereafter, it will operate the aftersales franchise, servicing trucks and supporting our customers.
"Discussions are ongoing about our network representation, and future developments will be announced in due course, as our partnership to our customers in Scotland remains our top priority."
Western Commercial did not respond.