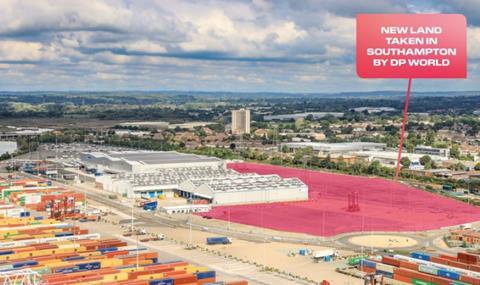 A £15m "state-of-the-art" HGV driver facility is in the pipeline at DP World's Southampton container terminal.
The project, which will be located on a 7,500sq m site next to the container terminal, will include a restaurant, showers, toilets and 24-hour security. It will also increase the size of the storage area used for containers moved by road and rail.
The development of the facility is in addition to a £40m programme to improve the terminal to ensure supply chain resilience.
Ernst Schulze, DP World UK chief executive, said: "We are delighted to announce this major step forward in the facilities we provide for drivers at Southampton, which will help to ensure that they are fit and rested to keep the supply chain moving. The overnight lorry park will provide access to amenities they need to do their jobs safely and well.
"The new land will also free up valuable storage space to expand further our rail interconnectivity. Our investment in rail at both Southampton and London Gateway eases congestion on the roads, with 300,000 trucks taken off UK roads each year.
"Last year we launched a new intermodal train service connecting our logistics hubs at London Gateway and Southampton, as we continue to build our end-to-end capability."
Read more
The new site, which was previously used for car storage and is expected to be fully operational this year, has been leased from Port of Southampton owner ABP.
Alastair Welch, ABP Southampton regional director, added: "As the UK's leading export port, Southampton plays a key role in keeping Britain trading. This new facility will significantly improve driver welfare as well as reducing the number of vehicles having to park up for rest periods elsewhere in the local area."
DP World – which operates ports, terminals and logistics businesses on six continents – runs logistics hubs at London Gateway and Southampton. Between them the two terminals moved a record volume of cargo in the first half of the year, with a combined total of 1.93m TEU.
The new driver facility is the latest investment in the UK by DP World. A new £350m fourth berth at London Gateway is now under construction, which will lift capacity by a third when it opens in 2024.
DP World said the construction project is supporting 1,000 jobs and the port-centric logistics park will employ a further 12,000 people when it is completed in five years' time.
It added that over the past 10 years the group has invested £2bn in the UK, with another £1bn of investment earmarked for the UK over the next 10 years, making the country the company's largest investment outside the Middle East.