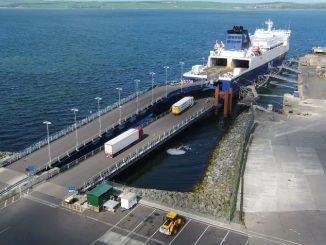 Logistics UK said it was "cautiously optimistic" that the government's solution to checks on food consignments moving from Great Britain to Northern Ireland will help prevent delays.
After lobbying from the logistics sector to ease the administrative burden after Brexit, the government has now proposed a solution on goods using groupage, which the trade association expects will reduce the number of vehicles needed to be inspected on arrival in NI.
Earlier this week, Logistics UK chief executive David Wells met Chancellor of the Duchy of Lancaster Michael Gove MP, Northern Ireland Secretary Brandon Lewis and transport secretary Grant Shapps to discuss the problems being faced by businesses trying to move freight across the Irish Sea.
At the meeting, the business group suggested that the proposed solution to the groupage issues be fully resourced with clear guidance for industry as soon as possible.
Read more
Following the latest announcement on rules surrounding Sanitary and Phytosanitary (SPS) checks, Alex Veitch, Logistics UK general manager of policy, said: "The guidance will help hauliers using groupage comply with SPS regulations while using the system to improve efficiency and reducing costs for customers.
"Logistics UK is cautiously optimistic that the solution proposed will help prevent delays, by reducing the number of vehicles needing to be inspected on arrival in NI if administered correctly."
Veitch added: "The sector will continue to work closely with both DEFRA and DAERA as the scheme develops, because it is still untested for larger volumes of traffic and it is clear that further IT developments will be required as the system evolves.
"As the scheme expands, it will be vital for the government to work closely with GB companies sending goods to NI to ensure they are fully briefed on how to prepare groupage loads of SPS goods for NI."