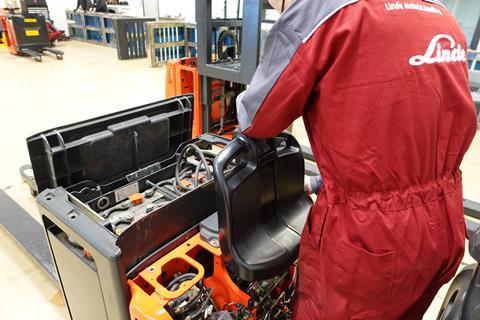 Forklift truck manufacturer Linde Material Handling UK has teamed up with HMP Five Wells to open a workshop which is training offenders in order to help them find employment once they are released.
The Linde workshop offers inmates a full day's work preparing some of the firm's small truck range for a range of tasks.
The dedicated workshop at HMP Five Wells is the UK's first purpose-built resettlement prison and is three miles from Linde's depot at Wellingborough in Northamptonshire.
HMP Five Wells, which is operated by GS4 opened last year and is designed to accommodate up to 1,680 low-risk male prisoners, who have been transferred from other prisons as they approach the end of their sentences.
Lauren Wren, Linde Material Handling UK's depot manager for its east region depot, set up the partnership with Paul Cunningham, who is the prison's business enterprise and community manager, after learning about similar projects involving their customers.
The prison is unique in its focus on rehabilitiation. It is fitted with 16 classrooms and 24 workshops in which offenders can learn the skills they need to find workplace opportunities upon release.
Those chosen to enter the programme first undergo a thorough screening process and are supervised by members of G4S prison staff who have completed the necessary training on Linde's forklift trucks.
Read more
Individuals then undergo stringent assessment before being offered day-release at Linde MH's Wellingborough workshop.
The Release on Temporary License programme gives the participants the opportunity to qualify in much the same way as through the company's apprenticeship scheme.
Wren said: "I look forward to the day when we employ someone from this programme. I have been overwhelmed with the support from everyone – the management, field and workshop engineers all playing their part."
One inmate, planning a career in commercial tyres, said: "There are not enough jobs out there and the ones that appeal need qualifications, which cost money. This course gives me a huge chance and I couldn't let it pass.
He added: "I have a little boy waiting for me and I want to make him proud of me. If I can have a career in the commercial tyre world, then that would be incredible. It's something I now want to do."