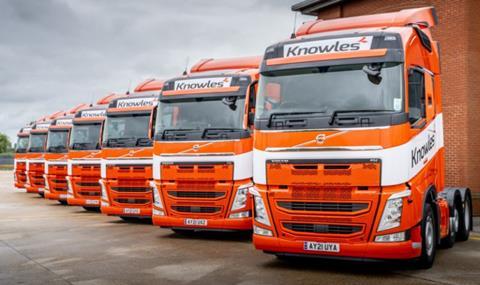 Logistics firm Knowles Transport has boosted its fleet with the recent purchase of 50 Volvo FH460 Turbo Compound vehicles – the largest single order in the company's history.
The Cambridgeshire-based family firm said the order has been placed to support its continued expansion and comes in response to the increased growth in demand for their haulage and warehousing services. The investment will also support their fleet replacement programme.
Thirty-three of the 50 new Volvo vehicles will act as replacement vehicles with the additional 17 helping to support growth in volumes at the firm.
Since Knowles operates on a five-year replacement policy, all its vehicles have been purchased with a full five-year repair and maintenance contract, with service provided by Volvo Truck and Bus in Ely.
Read more
The new vehicles come equipped with Volvo's 'I-Save' fuel saving technology, to help Knowles cut energy costs and emissions.
The company's new livery, which was recently unveiled on its new trailer fleet, will also be featured on all the new trucks. All vehicles on order will also be fitted with forward and side facing cameras for increased safety.
MD Alex Knowles, said, "This is the second order we have placed for the Volvo FH460 Compound vehicles and the fact that this is the largest ever single order of vehicles in the company's history is encouraging.
"Not only does this substantial investment demonstrate the strength of the business in the marketplace but also our commitment to growth and sustainability to our customers in the ambient food space.
"Our investment in the new vehicles also once again further extends our long-term relationship with Volvo who have provided us with expertly manufactured state-of-the-art vehicles that will allow us to cater to the increased demand for our services whilst continuing to minimise environmental impact."