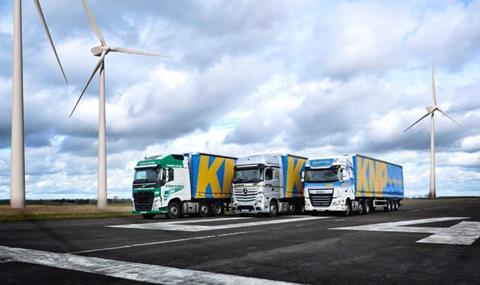 KNP Logistics Group, formerly known as Knights of Old Group, slashed its losses by almost two-thirds last year, boosted by major wins in the contract distribution sector, the acquisition of the assets of Steve Porter Transport for just £1, and a restructuring of its finance team, including the addition of a new chief financial officer.
The group - which includes hauliers Knights of Old, AE Parker, Nelson Distribution, NDL Holdings, Steve Porter Transport, and driver training firm Merlin Supply Chain Solutions - is now predicting a return to profit this year, after struggling to come out of the red for the past five years.
In its latest annual results to 31 May 2020, the Kettering-based company revealed losses before tax of £388,805, compared to a pre-tax loss of £1.2m in the previous year.
Revenue also improved in the period to £66.6m, up from £58.6m in the previous year.
In its strategic report to the annual results the company said: "The group has achieved significant success in the contract distribution sector with new contract wins in excess of £4.5m per annum with a further £2.3m per annum secured since the balance sheet date."
It added that the group is "well positioned to secure significant additional business".
Read more
The report said that the acquisition of Steve Porter Transport in August 2019 added incremental revenues of £8m on an annualised basis, boosted the group's fleet to 330 trucks and 440 trailers and its warehousing portfolio to 450,000sq ft, whilst increasing staff numbers to around 600 full-time employees.
It added: "This together with operational efficiency improvements and a continual reduction in fixed and variable costs across the group will result in a projected return to operating profitability in the current financial year."
The report revealed that the group acquired Steve Porter Transport for £1 in August 2019. The purchase, which was aimed at strengthening its links in the south of England, brought the assets of the firm including five sites in southern England.
Paul Abbott, group director at Knights of Old, said that despite the challenges of the Covid-19 pandemic the company had thrived in 2020: "As our financial year runs to May it was affected by the initial impact of the pandemic last year - had there not been a pandemic we would have been profitable last year.
"However business picked up very quickly last year, once we passed April, and has continued to do so, with new contract distribution wins and renewed business deals."
Looking ahead Abbott added: "The board is very pleased with performance this year. We are delivering good results across all our entities in the current year and the outlook is extremely positive.
"Turnover is up 10% this year and we are continuing the fleet replacement programme and our roll out of the KNP brand across our fleet."