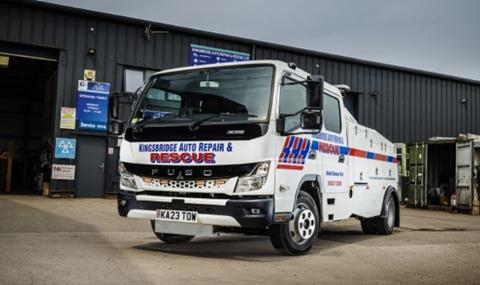 Kingsbridge Auto Repair & Rescue in Devon has taken on a 7.5-tonne Fuso Canter truck to keep pace with the number of camper vans and mobile homes breaking down on the county's roads.
It specified a factory-built double cab with seating for a driver and up to six passengers. Specialist bodybuilder J&J Conversions fitted the chassis with Super Hawk Underlift equipment, including a 'spectacle' lift with 2.5-tonne capacity and bodywork with secure lockers for tools and protective clothing.
"We cover a busy area of South Devon, including Torquay, the South Hams and Dartmoor," said owner Michael Saunders.
"In summer, especially, the local roads can be extremely busy with holiday traffic – and these days, an increasing number of those vehicles are vans.
"The 7.5-tonne Canter has the capacity to lift a camper, a large SUV or a heavy electric or hybrid vehicle, with ease, and there's room in the cab for all passengers to be seated safely.
The truck was supplied to the operator by Intercounty Truck & Van.