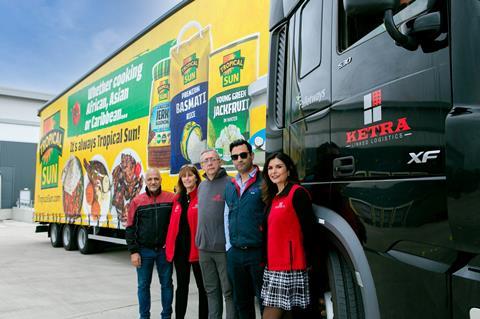 Palletways member Ketra Logistics has invested in a new liveried trailer for world food wholesaler Wanis International Foods.
The trailer has begun operating out of Wanis' new 100,000sq ft distribution centre in Rainham, travelling daily to Palletways' main hub in Lichfield for onward deliveries across the UK.
Ketra was appointed by Wanis in 2019 for pallet collection and delivery, and has supported the wholesalers' sales through Covid and now during the wholesaler's continued expansion. The partnership sees Ketra make a total of around 20,000 deliveries and collections each year.
Ketra director Vanessa Young, (pictured far right, with Ketra and Wanis team members ) said: "We work very closely with Wanis, it's a true partnership in every sense of the word. The trailer, liveried with many of Wanis' most popular brands, shows our commitment in a visual way and promotes the business as we support it across the UK.
Read more
"Since becoming its pallet network provider we've doubled the volume of movements for Wanis. We handle daily collections and deliveries and we're agile enough to provide on-demand services for extra trailers if they're needed. An 18-tonne lorry is also on order for Wanis to complement this trailer."
The world food wholesaler relies on its distribution network to support clients throughout the UK and Europe.
Khalil Butt, Wanis' transport manager (pictured first left), added: "As we continue to expand our business it's so important to have a reliable logistics partner to support us. Effective two-way communication and a sound understanding of our business needs and that of our customers is key.
"The introduction of Palletways ID, which is the first technology of its kind in the transport sector, has been a huge benefit to us too. It adds a new level of efficiency, visibility and data quality for us to fulfil even faster order turnaround times."