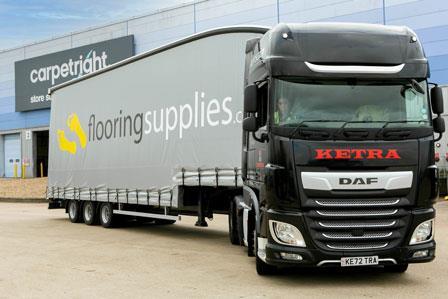 Ketra Logistics has invested in a new liveried trailer for its customer Flooring Supplies, to reflect its close relationship and promote the online flooring specialist.
The dual-branded, double deck trailer was revealed to the Flooring Supplies team at its Purfleet warehouse.
Ketra is a member of Palletways and has worked with the floor firm for two years, although the company has been a Palletways customer for more than 19 years.
Martyn Young, Ketra MD, said: "We work closely with the Flooring Supplies team; it's a true partnership in every sense of the word.
"The trailer, liveried with its popular branding, clearly demonstrates the association visually and helps to promote the business as we support them throughout the UK with pallet services."