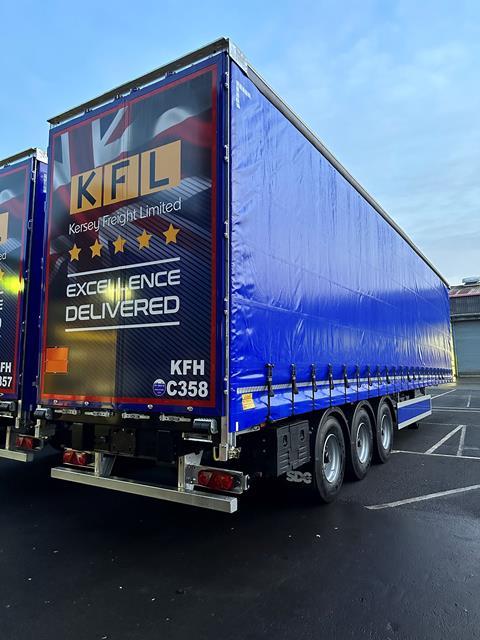 Suffolk and Yorkshire-based haulier Kersey Freight Limited (KFL) has placed an order with SDC Trailers for 60 new Freespan curtainsiders.
Kersey Freight has over 210 SDC trailers in its fleet including standard and sliding-roof curtainsiders, boxvans, flat and skeletal trailers.
The privately-owned haulier, which was launched 40 years ago, also provides transport of dangerous and hazardous goods including fertiliser and other specialist cargo.
The company said this latest order is a testament to the trust and partnership that exists between both companies.
The first 10 trailers are already in service, with the other 50 to be delivered over the coming weeks as part of an investment that will allow Kersey Freight to expand its operations across the UK and into Europe.
Kersey Freight said the 4.5m Freespan curtainsiders will provide it with increased capacity, improved efficiency, and enhanced safety features.
The trailers feature an aerodynamic design providing better fuel economy, BPW Drum brakes, a Wisatrans floor with steel dump plates, painted sideguard infills, flush back doors, and additional toolbox storage.
Read more
Matt Kerrison, SDC UK sales manager, said: "SDC has a built an excellent working relationship with Kersey Freight over the last 13 years which highlights our level of commitment, quality service, and ability to adapt to our customers' needs.
"Our trailers are manufactured using high-quality materials and are rigorously tested to ensure that they meet and exceed industry standards, in addition to this, our technicians strive to maintain the highest standards of quality finish."
David Crawford, director at Kersey Freight said: "We are thrilled to take delivery of our latest batch of SDC Freespan trailers, they are a great addition to our fleet as we continue to grow our business and better serve our customers.
"While we have a solid understanding of our customer's requirements, we recognise that transport demands are continually changing, and we work closely with our customers to provide modern, dependable and reliable solutions. SDC's aerodynamic design and detailed specification will allow us to further enhance our operational and environmental efficiencies as we continue to meet the growing demand from our customer base."