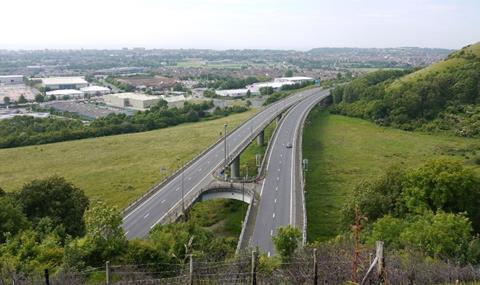 HGV drivers will no longer need a Kent Access Permit (KAP) to enter Kent from today (20 April) whilst the M20 moveable barrier will be taken down by the end of this week.
DfT has announced that hauliers and other commercial drivers moving goods between Britain and the European Union are now free to travel into and across Kent without the need for the permit which was introduced on 16 December, ahead of the end of the Brexit transition period, to prevent queues forming at the Channel Ports.
The Kent Resilience Forum has also announced plans to stand down the M20 moveable barrier on 24 April. Under the contraflow system the coast bound side of the motorway between Maidstone and Ashford is used by HGVs heading to cross-Channel ports, with all other traffic restricted to a 50mph contraflow on the opposite carriageway.
The removal of the KAP will be welcomed by international operators, taking away some of the extensive paperwork they have been grappling with since the end of the Brexit transition period on 1 January.
Industry compliance has been high with 86% of drivers meeting the KAP requirement, DfT said.
In the month after the KAP was introduced 407 hauliers were pulled up for failing to have the required paperwork, according to the Kent Police.
DfT said hauliers will still be able to access support on border requirements at 46 information and advice sites across the UK, with the government planning to keep open the busiest sites until at least August.
Read more
It added that more than 200,000 hauliers have used the sites to help them adjust to new border requirements since first opening in November 2020.
These measures come as freight volumes between the UK and the EU increase, following major falls in January.
The latest data from the Office of National Statistics (ONS) shows a partial rebound in exports which increased 46% to £3.7bn in February after a record 42% fall of £5.7bn in January.
However imports of goods from the EU showed a weaker increase in February, up just 7.3% to £1.2bn, after a record 29.7% fall of £6.7 billion in January.
Commenting on the news, Heidi Skinner, policy manager for the South at Logistics UK said: "The government's decision to abolish the Kent Access Permit is a reflection of the hard work undertaken by logistics businesses across the supply chain to ensure operations are border ready before hauliers embark on travel to the Channel ports. The Check an HGV service has been an effective tool in guiding businesses to the paperwork needed to cross the border.
"Today's news is positive for the industry and, in conjunction with the deactivation of the M20 Operation Brock contraflow, will support the smooth flow of trade to and from the UK. Logistics UK is now urging government and industry to ensure the entire supply chain is ready for the introduction of further EU-UK border controls from 1 January 2022 to keep trade flowing freely in the months and years to come."