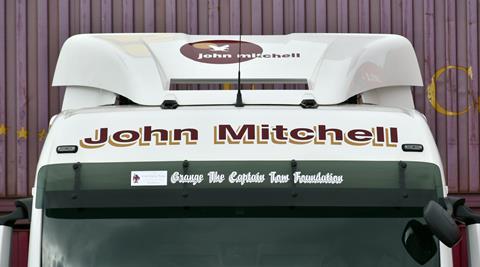 As the NHS continues to battle the Covid-19 pandemic, John Mitchell Haulage & Warehousing is to name each of its 21 new generation MAN TGX 26.470 tractor units after a healthcare charity.
John Mitchell has a tradition of naming every vehicle, which began in the 1960s. In past years, names have included 2012 London Olympians, 2014 Ryder Cup golfers and World War One Victoria Cross recipients.
To show its allegiance to the healthcare sector and the charities that support it, the company has selected the theme of 'Health Heroes' for the new vehicles.
The units are being delivered in several planned batches until October 2021.
Lynsey Mitchell, business support supervisor, said: "We aim to raise awareness of the selected charities during the year, who will all have their names and logos displayed on an assigned vehicle.
In addition, the Grangemouth-based firm will give a cash donation to all the 21 organisations featured.
Founded in 1956, the company has always used the 'Grange' prefix for its vehicle names. The first seven 'Health Heroes' arrivals are already in service. Amongst them were; Grange The Captain Tom Foundation, Grange Strathcarron Hospice, Grange Sands and Grange Parkinson's UK.
This latest order from MAN also marks the manufacturer's 25-year working partnership with John Mitchell Haulage & Warehousing.
"MAN trucks have predominated our fleet since the inaugural delivery of 14 new F2000 models back in spring 1996," Mirchell added.
John Mitchell Haulage & Warehousing currently operates a fleet of 130 vehicles from a 20-acre site near Grangemouth Docks.
The company has an extensive depot development and redesign project in progress, following the acquisition of a neighbouring five-acre site back in late 2019. This project is scheduled for completion in spring 2022.