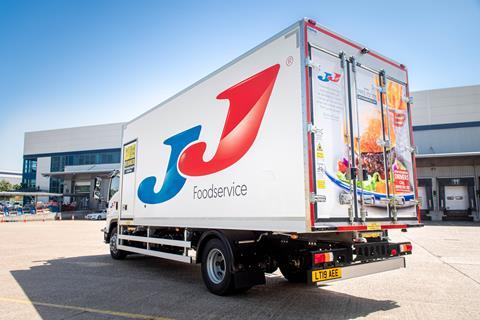 Wholesaler JJ Foodservice has added 20 13.5 tonne Isuzu delivery vehicles to support its expansion plans as it continues its hunt for 20 new drivers.
The Enfield-based company, which operates 140 delivery trucks across 11 UK branches, offers food, drink, packaging and cleaning products to businesses and the general public.
The purchase of the twenty 13.5 tonne Isuzu trucks, at a cost of over £1m, comes as the wholesaler celebrates record sales last week, following the re-opening of indoor dining on May 17, with customer accounts up 32% compared with the same period in 2019.
Kaan Hendekli, JJ Foodservice operations head, said: "There's been a fantastic appetite for eating out again. Brits are expected to spend even more than they did in 2019, which is great news for the UK hospitality sector."
Read more
"Our team has been working hard to fulfil every order and we're moving full steam ahead to help expand our support to even more UK eateries," he added.
Last week, JJ launched a driver recruitment push to attract at least 20 new HGV drivers. The company said it also wants to encourage more females into the sector, to help address the UK driver shortage.
It is aiming to fill the significant gap caused by European workers returning home following the UK's exit from the European Union by broadening its talent pool.
The company is offering HGV drivers permanent contracts with no evenings or weekends, and salaries of up to £35K.
The company holds restricted licences in nearly all the traffic areas.